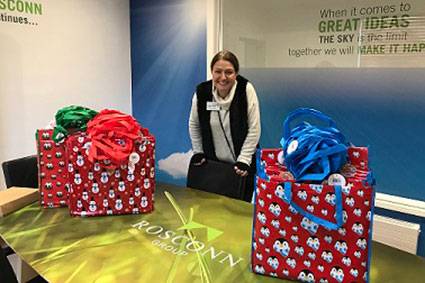 In the first nine months of this year the foodbank fed 1,627 people, 28% of which were children, making an average of 180 individual food parcels going out each month. This represents a 62% increase on the same period last year.  
Having heard these statistics Dan O'Donnell and the Rosconn team saw the importance of building a relationship with the Foodbank and therefore helping in any way possible.
Record food drive results – Foodbank Manager Marion Homer said  "This collection has been a phenomenal success. In addition to our usual food parcels, these generous donations mean we can supply our referral agency partners with over 200 community hampers to distribute to those in our town facing a difficult or challenging Christmas this year".
Sourcing and supplying many of the hampers was our first undertaking. The Foodbank is essential in Stratford and supporting a charity that helps those directly affected is so important to the Rosconn team.
We look forward to the New Year and continuing to help the Foodbank in any way needed
(Marion Homer collecting the hampers from Rosconn House on Thursday 30th November)