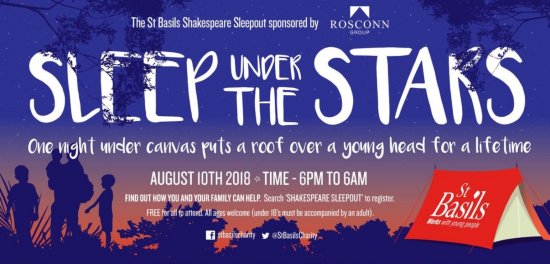 Local charity, St Basil's who work to prevent youth homelessness in Stratford-Upon-Avon and Warwickshire are organising a child-friendly community 'Shakespeare SleepOut' fundraiser on August 10th, 2018.
This unique event is a perfect way to challenge families to experience a night way from all the creature comforts of home and the things we regularly take for granted. It will, however be a night of family fun with of optional games, activities and competition to keep everyone entertained on-site.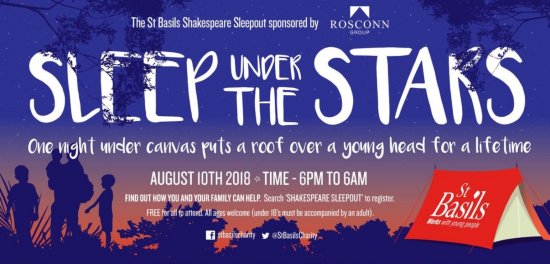 Daniel O'Donnell and the Rosconn team are delighted to be sponsoring a cause that is much needed in Stratford-upon-Avon, where in the last few years we have seen the numbers of homelessness increase on our streets. We are proud to be associated with a charity that work so tirelessly to combat the issue.
St Basils Business and Communities Executive Sian Dhillon, organiser of this event said:
"St Basils are keen to welcome people who would like to join us for this exciting but very meaningful night under the stars in Stratford upon Avon. We are extremely grateful to Rosconn Group the main sponsor of the event, Stratford Town Trust and the local community. The amazing support from all those involved and that take part, demonstrates we can achieve positive outcomes from working together traditionally as a community while being innovative in our solutions to prevent youth homelessness."
The 'Shakespeare SleepOut' is aimed at raising awareness of the services offered by the young people's charity, currently assisting 142 young people across Warwickshire.
Daniel O'Donnell, Founder & Managing Director from Rosconn Group who are sponsoring this event said:
"We are so excited to be working with St Basils' on this fundraising project and are very much looking forward to the event. Helping those in need is one of the strategic objectives of the Rosconn Foundation. This is why St Basils cause aligns with ours."
This is a ticketed event. Please visit St Basils website to secure your free places now: